Issue #3: July, 2010
Welcome to our Issue
Vastu Home Wins First LEED Platinum Certification in Iowa
Nourishing Organic Vedic Gardens
Harvard Case Study on Vastu
View Vastu Homes for Sale - Swedish Style Cottage
PUBLISHED BY:
Maharishi Vastu® Architecture, Applying the principles of Maharishi Vastu design
641-472-7570 (phone)
641-472-8691 (fax) info@maharishivastu.org
www.maharishivastu.org
About Us
Live or work in Maharishi Vastu and gain a powerful influence of fulfillment, happiness and perfect health for the rest of your life.
Maharishi Vedic® architecture provides the universal rules and principles to design buildings, developments and cities to bring the beneficial influence of all the laws of nature to human life.
Maharishi Vastu is the holistic science of establishment that connects the parts to the whole, the individual to the cosmic.
What we offer to you:
1. Consultation services: to ensure that your architect's custom design will have a fully nourishing influence.
2. Site evaluation: to help you find an ideal site.
3. Pre-designed plans for homes and larger buildings.
4. Custom design of homes by affiliated architects.
5. Master Planning for developments and communities.
Share the Knowledge
Invite your friends to subscribe to the Newsletter of Maharishi Vedic Architecture , or simply forward this e-mail to them.
Privacy policy: We do not make our list available to other organizations.
Copyright © 2010 Fortune-Creating, Maharishi Sthapatya Veda, Maharishi Vedic, Maharishi Vastu, are registered trademarks licensed to Maharishi Vedic Education Development Corporation and used under sublicense or with permission.
Vastu Home Wins First LEED™ Platinum Certification in Iowa
On Monday, June 21, Iowa's first LEED™ Platinum-certified home was awarded a certification plaque by the U.S. Green Building Council (USGBC).
Located at 33 Pecan Street in Cypress Villages, Robert Smistik's new Vastu home was over a year in the making. Constructed entirely by local contractors, the two bedroom home had to meet a rigorous checklist of requirements to attain LEED™ Platinum certification.
The sustainable development of Cypress Villages has the goal of having all of their homes built according to the principles of Maharishi Vastu architecture and LEED™ Platinum certificated.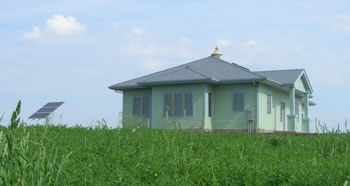 Nourishing Organic Vedic Gardens
For those of you who have a Fortune-Creating Home, try the new Vedic Garden Design service.
The purpose of a Vedic Garden Design is to enhance, beautify and compliment Fortune-Creating homes and buildings. A Vedic Garden brings the softening influence of the leafy green and floral blessings of nature closer. It will be designed in an appropriate manner to complete and harmonize with the beauty and dignity of the Vastu structure.
Services include the following options:
1) Smaller features incorporating Vedic proportions and measurements to fit into your existing Vastu garden.
2) Design of the layout of your garden within the desired area.
3) Plant selection (decorative and/or edible) and grouping for the above.
4) Adjacent or nearby garden matching your Maharishi Vastu home's architectural style. The design range includes formal, informal, various classical footprints or a custom design.
Harvard Case Study on Vastu
Jeffrey Abramson was interviewed by Multi-Housing News Online about the value of Vedic architecture.
The Harvard Business School/Harvard University Graduate School of Design recently presented a case study: "Design Creates Fortune: 2000 Tower Oaks Boulevard," on the 200,000 square foot LEED Platinum and Fortune Creating Architectural/Vedic-designed office building co-developed by The Tower Companies and Lerner Enterprises of Rockville, Md.
The presenters challenged students to consider the fact that human capital costs were higher than energy costs, and, perhaps it made more business sense to focus on improving the efficiency and productivity of the employees by employing ideas like Vedic Architecture.
To buy a copy of this case study go to: http://hbr.org/product/design-creates-fortune-2000-tower-oakes-boulevard/an/210070-PDF-ENG?referral=00304
For the full article go to: http://www.multihousingnews.com/2010/05/05/mhn-interview-with-jeffrey-s-abramson-vedic-architecture-can-change-the-way-people-feel-and-work-2/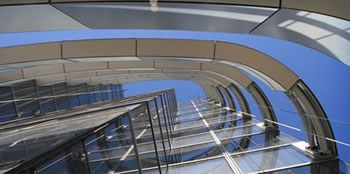 View Vastu Homes for Sale — Swedish Style Cottage
Whether contemporary or traditional, Maharishi Vastu principles are compatible with many styles of architecture. This unique home, built in the blue ridge mountains of North Carolina, is a charming example. To view more photos of this home or other Vastu buildings for rent or for sale visit,
www.maharishivastu.org/rent-or-buy.